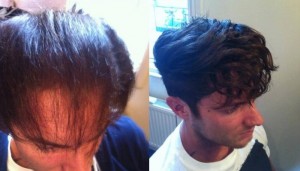 The fastest growing segment of add-on hair in Great Britain? Men!?
When it comes to trends, looking at other countries can sometimes alert you to up and coming trends state-side before they hit. For example…here's a shocking fact: the beauty industry in the UK is reporting a 200% increase in their hair extension business…with men?
Dubbed "The Harry Styles Effect", hair salon throughout the UK are reporting a surprise ballooning in men seeking hair extensions to recreate the curly haired lovebot's trademark 'look'. Men are seeking extensions not just for length and thickness, but also for volume.
With the new Baywatch currently in production here in the U.S….will we be seeing a return for guys looking to get (by any means necessary) 90's surfer locks? Time will tell…