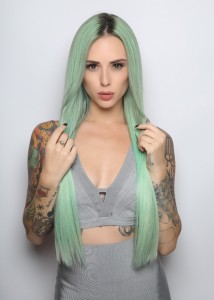 For fashion-color-loving clients looking to get festive this winter or looking to emulate color-chameleon Kylie Jenner (we know, we know—many wigs), Pravana has your back!
The minty-fresh green by Pravana Vivids colorist Toni Rose Larson is featured on model, photographer and blogger Alysha Nett. The formula combines Pravana Vivids Pastels in Blissful Blue and Mystical Mint, and Larson gave Nett down-to-there locks with custom-colored HaloCouture hair extensions.
Larson also used Nevo :60 Deep Treatment to her lightener to make sure hair stayed healthy and strong while lifting to a level 10. See the steps and video tutorial below!
Get the color: Winter Green
Lightener: 1 oz. Pravana Pure Light Power Lightener + 3 oz. Creme Developer + 1/3 oz. :60 Deep Treatment
Formula 1: Pravana Vivids Pastels Blissful Blue
Formula 2: Pastels Mystical Mint
Toner: ChromaSilk Express Tones Ash
STEP 1: Pre-lighten hair to a level 10 from regrowth to ends.
Pro tip: Pravana Meche Sheets keep work tidy and create barriers.
STEP 2: While hair is lifting, apply Formula 2 to HaloCouture extensions.
STEP 3: Shampoo, condition and rinse using any Pravana Nevo shampoo and conditioner.
STEP 4: On damp hair, apply toner from regrowth to ends. Process 5 minutes, rinse, condition and dry completely.
STEP 5: Apply Formula 1 to two inches from regrowth, covering any residual pale yellow tones left in hair.
STEP 6: Apply Formula 2 from Formula 1 through ends, all over.
STEP 7: Process for 20-30 minutes at room temperature.
STEP 8: Shampoo, condition and protect with Pravana Vivids Color Protect.
STEP 9: Apply Pravana Nevo Model Behavior Styling Creme and blowdry hair completely.
STEP 10: Flatiron hair to smooth.
STEP 11: Apply extensions and blend using a comb.