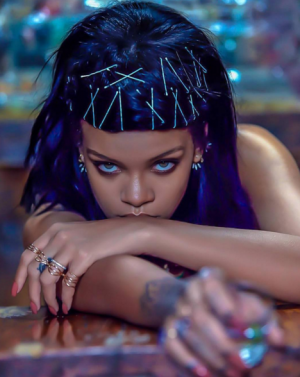 Rihanna has never been shy about changing up her look. The singer (and actress from time to time) has traded in her raven locks for a number of shades throughout the years—arguably most memorably fiery red, but also variations of blonde, brunette, bronde and more.
Most recently, the songstress was spotted with a deep, navy-blue color that is just a few steps shy of black. It's a cool interpretation of a fashion color so deep in its shade that is almost passable as a natural color.
Pravana artist Cynthia Valentin formulated a way to emulate Rihanna's newest haircolor using Pravana Vivids Black additive below.
Get the color: Rihanna's Navy-Blue Hue
Formula 1: One part Vivids Blue + 2 parts Vivids Black additive
Formula 2: Vivids Blue
Formula 3: Vivids Locked-In Blue
STEP 1: Pre-lighten hair to level 10 using Pravana Pure Light Power Lightener and choice of developer.
STEP 2: Shampoo, rinse and dry hair completely.
STEP 3: Apply Formula 1 from root to mid-shaft.
STEP 4: Apply Formula 2 and Formula 3 to alternating strands from mid-shaft to ends throughout.
STEP 5: Process 20-30 minutes at room temperature. Rinse with cool water.
STEP 6: Shampoo, condition and protect with Vivids Color Protect after care products. Style as desired.